MARTIN HERZOG
Dr. rer. nat. M.Sc. LL.M. DESU
Patent Attorney
European Patent Attorney
European Trademark and Design Attorney
Managing Partner
CURRICULUM VITAE
Martin Herzog studied chemistry and law at the Philipps-Universität Marburg, University of Hagen (all Germany) and University of Strasbourg (France), polymer science and engineering at the University of Massachusetts at Amherst (USA), graduating with an M.Sc., before obtaining a doctorate at the Max-Planck-Institut für Kohlenforschung (Germany). He started his career in the field of intellectual property in 1993 and has worked in Dusseldorf in private practice since 2000. Dr. Herzog obtained an LL.M in European Intellectual property law as well as a DESU in Patent Litigation in Europe.
Martin Herzog has worked as a management consultant, in IP law firms and in the pharmaceutical and chemical industry as head of a patent department. His areas of expertise include in particular the protection, defense, licensing and litigation of inventions, mainly in the fields of pharmaceuticals, chemistry, mechanics, medical devices, optics, material sciences and process technology as well as in strategic IP management, due diligence and freedom to operate analyses, and in patent-related work for mergers and acquisitions as well as German employee inventors law.
LANGUAGES
German, English
TEACHING
Lecturing modules at the course on Patent Litigation in Europe at CEIPI (Centre d'Etudes Internationales de la Propriété Intellectuelle, Université de Strasbourg).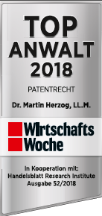 In the 2018 WirtschaftsWoche-Rating by the Handelsblatt Research Institute in the field of patent law Martin Herzog was recommended as a leading patent attorney.